1107 Pearl Street
Boulder, Colorado 80302
Email:
info@boulderbookstore.com

Phone: 303-447-2074
Fax: 303-447-3946
Toll free 1-800-244-4651
Normal Hours: (Subject to change for holidays) All hours are Mountain Time (GMT -7:00)
Monday - Friday
10 am - 10 pm
Saturday 9 am - 10 pm
Sunday 10 am - 8 pm
Summer and Holiday Hours (typically Memorial day to Labor day and Thanksgiving to Christmas)
Monday - Thursday
10 am - 10 pm
Friday 10 am - 11 pm
Saturday 9 am - 11 pm
Sunday 10 am - 9 pm
Where to Park When Visiting Us
We provide meter tokens and free parking validation for city lots to our customers. The Spruce Street parking structure is located directly north of the store. There is a short-term meter lot at Broadway and Spruce. Other lots and structures are located at 1100 Walnut, 1400 Walnut (by the RTD), and 1500 Pearl. There is free street parking in local neighborhoods for two to three hours, depending on the neighborhood. On weekends, parking is unlimited in most neighborhoods, but do check the street signs when you park for possible exceptions. We also encourage alternative transportation modes.
Call Go Boulder at 303-441-3266 or go on-line at www.ci.boulder.co.us/goboulder to get HOP and SKIP maps and schedules and other information.
Boulder Book Store's
FAERIES' ORACLE
webring page
---

The Secret Faery Sketchbook of Brian Froud
Faeries are manifestations of natural energy, their forms expressing a unique sense of place or purpose or emotion. By their very nature, of course, they are ethereal and illusive, and so putting a face on their dynamic forces is a challenging task. They do not respond to an "airy-fairy" approach for they are noted in reality--not, as many suppose, fluttering in childish fantasy. If we but care to respond intuitively to them we will find that they convey wisdom and speak of a profound relationship between us all and the earth itself.

My drawings are the result of responding to enigmatic subtleties, and of a sensitivity to a moment or place. As an artist I have to step aside from all I know technically about my craft and allow the faeries to materialize on the page. I push the pencil around and a face emerges. My drawings are open and loose to allow the faery energy in. In the leaves of my sketchbooks, faeries of myriad aspect wait to be understood or recognized or to impart their message. My sketchbooks are normally kept secret and are not seen by anyone; they provide communion between myself and the faery realms. But now, for the first time, we're providing a glimpse into that enchanted domain.

People often ask me how to see faeries. I reply that faeries are not seen through the eyes but through the heart. The tide of Faeryland is sweeping in closer to the human shores. The voices of the faeries are becoming clearer and more insistent. For those who cannot yet hear them directly, the newly published FAERIES' ORACLE gives us, with the tools of a revelatory book and cards, a means of direct, personal communication with the faeries and ourselves

Enjoy your journey into the enchantment of the faeries.

Brian Froud is signing at Boulder Book Store on November 2nd, 2000. to see the details, click HERE.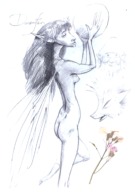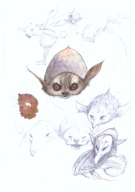 Click on the image to see the full size JPG image.
Click the back key to return to this page.
If you would like to order a copy of the
Faeries' Oracle
, click on the order button.

Faeries' Oracle ($25.00 Simon & Schuster)